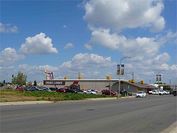 Dinuba Lumber Co
441 W Tulare Street
Dinuba, CA 93618
Phone: (559) 591-4485
Fax: (559) 591-8087
Email:
rod@dinubalumber.com
Mon - Fri 7:00 am - 6:00 pm
Sat 8:00 am - 5:00 pm
Sun 8:00 am - 4:00 pm Brooks Schaffer
Owner Rod Buckley
Manager
Dinuba lumber has an extensive inventory in order to help you fix whatever is broken. We are obsessive about having everything you need to complete your job. We help you one on one. We are Ace Hardware and much, much more. U-DO Rental has bobcats, backhoes, articulated boom lifts, scissor lifts, scaffolding, track trenchers, tractors, chippers, stump grinders, generators, welders, towable compressors, light towers, dump trailers, equipment trailers, excavators, log splitters, chainsaws, concrete grinders/scarifiers, concrete saws, carbide adhesive removers, Jack hammers of every size, drain snakes, sewer cameras, Geiger counters, EMF detectors, and hand held power equipment too numerous to mention. Large inventory of sheet and profile Steel, Aluminum, Stainless Steel and UHMW. Trailer Haul and Truck delivery ready mixed concrete. Landscaping and Rockery. Lumber and Building Materials. Honda and B&S Small engine repair. MIG, TIG, and spot Welding. Echo Power equipment sales and service.