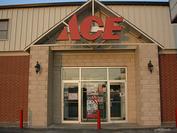 Brandt Ace Hardware
1617 S 4th St
Chickasha, OK 73018
Phone: (405) 224-0600
Fax: (405) 224-0601
Email:
brandtsace@yahoo.com
Mon - Fri 8:00 am - 6:00 pm
Sat 8:00 am - 5:00 pm
Sun Closed
Steve
Owner
Tony
Manager
Brandt's Ace Hardware is locally owned and operated by brothers, Tony Brandt and Steve Brandt and is located on 4th street in the middle of Chickasha, OK. Brandt's Ace Hardware has been serving the Chichasha community and the surronding aera since 1959. After serving the community for many years as Brandt Fleet Distributing, in 2011, Brandt's did a complete remodel by updating the entire store inside and out, even the store's name got a makeover, after all the changes and upgrades. Brandt's Ace Hardware reopened it's doors and is still serving the community with the same helpful attitude it has always had. We can't wait for you to stop in and see us today.
BLACK+DECKER
Carhartt
Clark+Kensington
DEWALT
Husqvarna
STIHL
Valspar
Friends Fur Change is the local animal rescue group in area, there goal is to find loving homes for all stray cats and dogs at the local animal shelter. To which BRANDTS ACE HARDWARE has gladly hosted local adoption events several times