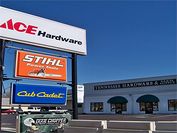 Tennessee Hardware
441 East Broadway
Gallatin, TN 37066
Phone: (615) 452-9309
Email:
tennhardware@aol.com
Mon - Fri 7:30 am - 6:00 pm
Sat 7:30 am - 6:00 pm
Sun Closed
Jimmy Kisner
Owner collin barnes
Manager
As your local Ace Hardware, our store is a member of the largest retailer-owned hardware cooperative in the industry. Ace Hardware began as a small chain of stores in 1924 and has grown to include more than 4,600 stores in 50 states and more than 70 countries.As part of a cooperative, every Ace Hardware store is independently owned. Tennessee Hardware opened in 1977, and has been family-owned and operated for over 45 years. We strive to be your "helpful hardware place."