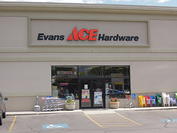 Evans Ace Hardware
714 N 1st St
Hamilton, MT 59840
Phone: (406) 363-3351
Email:
david@hamiltonevansace.com
Mon - Fri 8:00 am - 5:00 pm
Sat 8:00 am - 5:00 pm
Sun 8:00 am - 5:00 pm DAVID EVANS
Owner Chris Smith
Manager
Thank you for making Evans Ace Hardware your "My Store" choice. Evans Ace has been serving the Bitterroot Valley since 1936. Our customers are people who have discovered there is a thrill of pride in fixing a leak yourself. They love the sense of peace knowing that maintenance is cheaper than replacement. They understand that working in the garden is cheaper than therapy and changing the paint color of your home is more fun than moving. Our customers all can describe, in detail, how to prepare a meal on their grill. The valley has grown and changed since 1936. We have made sure our store has evolved and changed to keep up with you. Evans Ace Hardware wants to be your favorite place to shop. That means we are constantly working hard to make sure you receive the best service, and best selection at the best price. Helping you is the most important thing we have to do today. Come see us! 8:00am- 7:00pm 7 days a week.