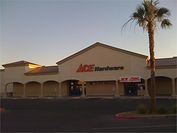 Ace Hardware
8400 W Cheyenne Avenue
Las Vegas, NV 89129
Phone: (702) 431-2690
Email:
hardware15335@hmstores.com
Mon - Fri 7:00am - 7:00pm
Sat 7:00am - 7:00pm
Sun 8:00am - 6:00pm Guy Kamitaki
Owner Jeffrey Kajiwara
Manager
Family-owned and operated HouseMart is the parent brand of 24 Ace Hardware stores in Hawaii, Washington, Oregon and Nevada. Headquartered in Honolulu, the company began as a small dry goods store and has grown into a multi-state business serving communities for over 60 years. HouseMart prides itself on exceptional service and creative solutions to enhance its customers lifestyles. For more information about HouseMart, visit www.hmstores.com or contact (808) 838-7773.