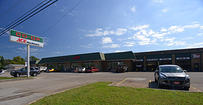 AgCentral Farmers Cooperative
1514 W Broadway Avenue
Maryville, TN 37801
Phone: (865) 982-2761
Email:
smcmanus@agcentral.coop
Mon - Fri 8:00 am - 5:00 pm
Sat 8:00 am - 4:00 pm
Sun Closed
Alex Anderson
Manager
Serving the community since 1946, AgCentral Farmers Co-op carries a diverse range of products for the farmer, homeowner, pet owner, gardener, and diy-ers. Please stop by and check out all the products and services we offer. Under one roof you will find an automotive and tire center, an Ace Hardware, a farmers co-op, a pet store, a clothing and boot store, and a power equipment dealer. We carry many popular brands including Michelin, B F Goodrich, Mastercraft, Craftsman, CO-OP and Purina feeds, Bonnie plants, Miracle Gro, Roundup, Bonide, Frontline Plus, Science Diet, Diamond, Carhartt, Wrangler, Red Wing, Rocky, Stihl, Husqvarna, Toro, Simplicity, Ferris and much more. Our staff is friendly, knowledgeable and eager to help you find the products that will best suit your needs.
Carhartt
Craftsman
Ferris
Hill's
Husqvarna
Red Wing Shoes
STIHL
Scotts