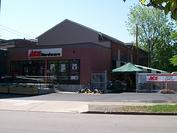 Schuele Ace Hardware
22 Summer St
Buffalo, NY 14209
Phone: (716) 259-8428
Fax: (716) 259-8432
Email:
acehardware@schuelepaint.com
Mon - Fri 8:00am - 7:00pm
Sat 8:00am - 6:00pm
Sun 9:00am - 5:00pm Owner Dan Crockford
Manager
Our store is new, but at heart we are an old fashioned neighborhood hardware store. We pride ourselves on being well stocked, clean, and organized. We have fit a full sized suburban Ace Hardware store (that is typically over 6,000 square feet) into a 3,000 square foot space. We have even added extra items not found in the cookie cutter big boxes. If we do not have something you are looking for, we will get it! With access to well over 65,000 items in our warehouse we can get hard to find solutions without any shipping charges. The store may be new, but you already know us. Schuele has been on this block of Summer Street since the 1930s, offering great service and quality products at the Schuele Paint Co. Our hardware staff has over 40 combined years of experience helping people with their projects. Stop in and let us help you with yours.