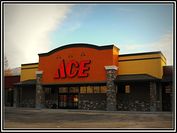 Ace Hardware-Brigham City
220 N Main St
Brigham City, UT 84302
Phone: (435) 723-3999
Fax: (435) 723-3662
Email:
brighamcityace@gmail.com
Mon - Fri 8:00 am - 8:00 pm
Sat 8:00 am - 8:00 pm
Sun 10:00 am - 6:00 pm Kelly Beckstrom
Owner Dave Boatwright
Manager
Your friendly neighborhood Hardware Store is now just around the corner! Brigham City Ace Hardware is where you can find helpful people, who care about your project and want to get you out and on your way with what you need. Something you will frequently hear at our store is "If we don't have it, we'll get it for you!" In a small town, its important to have that kind of service. Brigham City Ace is independantly and locally owned, with the resources of a Hardware Company dating back to 1924, and now with over 4600 stores in all 50 states. This makes us the most experienced and well rounded Hardware Business in the country. At our store, we haven't forgotten that the most important part of our business is you, the customer. We pledge to be "Ace Helpful" and promise your experience with us will be unmatched. Come on in and see for yourself!
BLACK+DECKER
Clark+Kensington
Craftsman
DEWALT
Husqvarna
KitchenAid
Ninja
STIHL
Scotts
Shark
Weber
Cashiers exemplify the foundation of our service to each customer as they enter and leave the store. Every job within Ace ultimately impacts the customer directly or indirectly. Customers are the reason we are here; without them we wouldn't be.

Contact: Eden Johnson, 435-695-2628
Sales associates are responsible providing legendary customer service. They offer the solutions to the customers needs. Every Ace team member is expected to pledge to keep the customer first and foremost regardless of his or her job.

Contact: Eden Johnson