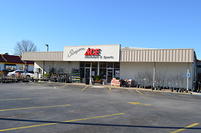 Simpson Ace Hardware
350 Pinewood Rd
Sumter, SC 29150
Phone: (803) 774-2275
Fax: (803) 774-2276
Email:
leigh@simpsonhardwareinc.com
Mon - Fri 7:00 am - 6:00 pm
Sat 8:00 am - 6:00 pm
Sun Closed Carl Simpson
Owner Benjy Roof
Manager
Simpson Hardware Co. was founded in 1951 by the late Carl Simpson, Jr. with the purchase of stores in Camden, Hartsville and later Sumter, SC. Carl Simpson, III opened a second location at Palmetto Plaza in Sumter in 1963. With growth, this basic hardware store became widely known for its sporting goods and lawn and garden departments. On April 9, 2000 the Palmetto Plaza store burned to the ground. After several temporary moves, Simpson Plaza Hardware opened in its new building on Wesmark Boulevard in 2004. Today there are four Simpson Hardware and Sports locations: three in Sumter, one in Manning. Various family and friends work and run the business with Carl Simpson, III still at the helm. We invite and welcome you to visit any and all locations of the family and locally owned Simpson Hardware stores.
Clark+Kensington
DEWALT
Scotts
Southern Fried Cotton
YETI
Children's Miracle Network Hospitals
We are proud to be a partner of Children's Miracle Network Hospitals. We conduct fundraisers throughout the year with a couple major fundraisers at different points in the year.