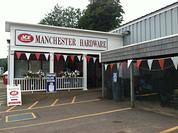 Manchester Ace Hardware
35 Beach St
Manchester, MA 01944
Phone: (978) 526-4000
Fax: (978) 526-4860
Email:
manchesteracehardware@yahoo.com
Mon - Fri 8:00 am - 5:00 pm
Sat 8:00 am - 5:00 pm
Sun 10:00 am - 2:00 pm

Manager
Manager
Allan Houle
Owner
Our store is a member of the largest retailer-owned hardware cooperative in the industry. Every Ace Hardware is independently owned and made unique to meet the needs of the local community. At Manchester Hardware, we are able to offer knowledgeable advice, helpful service, and quality products to our customers. We are extremely committed to living up to the standards of being the "Helpful Place". As the helpful hardware folks in your community, we promise that, "helping you is the most important thing we have to do today."