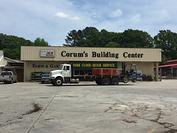 Corum's Building & Farm Center
408 Highway 31 NW
Hartselle, AL 35640
Phone: (256) 773-5477
Fax: (256) 773-2275
Email:
service@corumbfc.com
Mon - Fri 7:00 am - 5:00 pm
Sat 7:00 am - 12:00 pm
Sun Closed CORUM
Owner CORUM
Manager
Corum's Ace Building Center began in February 1972, as Carroll & Corum Building Supply, with owners Jim Corum and Bill Carroll being partners in forming the company. The company was originally located on Hwy 31 South in Hartselle, 44 years later our physical address is 408 Hwy 31 NW Hartselle, Ala. Bill Carroll retired in 1986-1987, the name changed to Corum's Building and Farm Center with new owners, Jim, Kevin and Reggie Corum. Our Dad, Jim Corum passed away October 25, 2015, and now present owners are Kevin and Reggie Corum. We offer a full line of building materials, plumbing, electrical, windows and doors, paint and accessories as well as a full line of cleaning supplies. We offer free estimates on building and or remodeling, deck packages( we stock YELLA WOOD), window replacement as well as door replacement. We offer competitive pricing, but we excel in SERVICE !!! We offer same day delivery on most items. Stop by and visit with us , where the coffee is always on us.