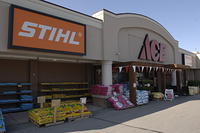 Colonial Ace
380 E Pages Ln
Centerville, UT 84014
Phone: (801) 292-1471
Email:
scottp@colonialbuilding.com
Mon - Fri 8:00 am - 7:00 pm
Sat 8:00 am - 8:00 pm
Sun Closed Fred Hale
Owner Scott Penman
Manager
Beginning as the hardware section of the local Dick's Market, Dick's Ace Homecenter served the Centerville and Bountiful areas for nearly 40 years. After Dick's Market changed locations, Dick's Ace Homecenter was purchased by Colonial Building Supply in 2013. Staying open during the process, Colonial Ace Hardware emerged from the transition with a new name, redesigned layout, and larger selection. Despite the new name and look, we've strived to keep the best things that the store has been known for including a wide variety of irrigation supplies, knowledgeable sales staff, and friendly environment. We have expanded tool our hardware election, and continue to provide excellent service to our customer and community.