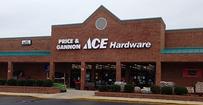 Price & Gannon
2448 Centreville Rd
Centreville, MD 21617
Phone: (410) 758-0730
Fax: (410) 758-0794
Email:
info@priceandgannon.com
Mon - Fri 7:00 am - 8:00 pm
Sat 7:00 am - 7:00 pm
Sun 8:00 am - 5:00 pm
John Price & Margie Booze
Owner

John Price
Co-Owner

Donald
Manager

Margie Booze
Co-Owner
PRICE & GANNON opened in 1959, in downtown Centreville.. In the early years, our store operated as an American Hardware store, later named Servistar. After a merger of 2 buying groups in 2000, we became True Value. In 2001, the business was expanded to its present location, and the rental department was added. In 2009, we celebrated 50 years in business. In 2013, a transition to Ace Hardware was made. As your local Ace Hardware, our store is a member of the largest retailer-owned hardware cooperative in the industry. Ace Hardware began as a small chain of stores in 1924 and has grown to include more than 4,600 stores in 50 states and more than 70 countries.As part of a co-op, every Ace Hardware store is independently owned. We are all committed to being "the Helpful Place" by offering our customers knowledgeable advice, helpful service and quality products. As the helpful hardware folks in your community, we promise that, "helping you is the most important thing we have to do today".
Amy Howard
BLACK+DECKER
Clark+Kensington
Craftsman
DEWALT
Husqvarna
Nutro
Purina
Rubbermaid
Scotts
Traeger
Valspar
Weber
Werner
YETI