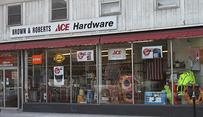 Brown and Roberts Ace Hardware
182 Main St
Brattleboro, VT 05301
Phone: (802) 257-4566
Fax: (802) 257-2701
Email:
sales@brownrobertsace.com
Mon - Fri 7:30 am - 5:30 pm
Sat 7:30 am - 4:30 pm
Sun 9:00 am - 1:00 pm Rick Bibens
Owner

Ed Morse
Manager
On October 1, 2013 Bibens Ace acquired Brown & Roberts in downtown Brattleboro, VT. Brown & Roberts, a family-owned and operated business and longtime friend of the community, is your quintessential Vermont hardware store. Spanning three different levels of wood covered floors, the store has a total 9,000 sq. ft. of retail space. Brown & Roberts is known for their large variety of products; the breadth of their inventory is impressive.