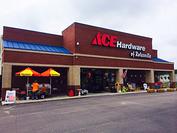 Ace Hdwe of Rolesville
411H S Main St
Rolesville, NC 27571
Phone: (919) 263-1883
Fax: (919) 263-8113
Email:
rvlace@gmail.com
Mon - Fri 8:00 am - 7:00 pm
Sat 8:00 am - 6:00 pm
Sun 10:00 am - 5:00 pm
Paul Owens
Owner
Craig Allen
Manager
ACE Hardware of Rolesville just celebrated its 4rd Anniversary here in the Rolesville Community. Time has flown and the business continues to grow as it caters to the needs of the Rolesville and Wake Forest communities. We have been blessed with great customers and employees and we hope that we can continue to provide value added service to our customers for many years to come.
Amy Howard
Black+Decker
Clark+Kensington
Craftsman
DEWALT
Rubbermaid
STIHL
Scotts
Toro
Traeger
Valspar
Weber
Werner
Yeti