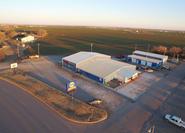 Cherokee Ace Hardware
1512 S Oklahoma Ave
Cherokee, OK 73728
Phone: (580) 596-2438
Fax: (580) 596-2468
Email:
jacks2438@sbcglobal.net
Mon - Fri 7:30 am - 6:00 pm
Sat 7:30 am - 6:00 pm
Sun Closed DAVID & NANCY PARR
Owner DAVID & NANCY PARR
Manager
business of the month
staff
Cherokee Ace Hardware was started in 2016 after being in business as Jacks Auto / Napa since 1959. These changes have included 3 moves and expansions coordinated by Jack and David Parr. Our addition of Ace Hardware was fulfullment of Davids 40 years in the hardware business thru sales and management. The combination of the hardware store concept has successfully meshed with the automotive needs present for many years in the Alfalfa County community. The goal of the business is to provide county wide provisions for both the farm and domestic fronts.
Amy Howard
BLACK+DECKER
Carhartt
Char-broil
Clark+Kensington
Craftsman
DEWALT
Mothers Car Cleaning Supplies
Rubbermaid
STIHL
Scotts
Toro
Traeger
Valspar Home and Professional
Weber
YETI