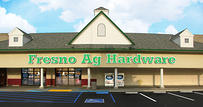 Fresno Ag Hardware
4590 N 1st St
Fresno, CA 93726
Phone: (559) 224-6441
Email:
IWilliams@Fresnoag.com
Mon - Fri 8:00 am - 6:00 pm
Sat 8:00 am - 6:00 pm
Sun 9:00 am - 6:00 pm Rae Rosetta
Owner Ian Williams
Manager
For over 142 years, Fresno Ag Hardware has dedicated itself to serving the Fresno area. Our mission is simple: Be An Asset to the Community. We believe we can empower our customers by teaching them how to maintain and improve their homes and yards. If we can teach someone how to change out a light bulb today, imagine what they'll be capable of doing tomorrow. So, it doesn't matter if you're fixing a single faucet or building a bathroom addition to your house, your project is our project. With 10 departments, 80 experts, 60,000 products and 142 years of doing business, Fresno Ag Hardware is your one stop shop for your home and yard.