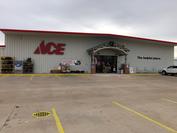 Ace Hardware - Dwight
104 Watters Dr
Dwight, IL 60420
Phone: (815) 584-2954
Email:
micah12@acesetsthepace.com
Mon - Fri 7:30am - 7:00pm
Sat 7:30am - 7:00pm
Sun 9:00am - 5:00pm

Robin, Teresa, Danielle
Assistant Managers

George and Lucy
Owner

Micah Strief
Manager
Dwight became our 12th store in December of 2015. The store was redesigned from top to bottom inside and out to offer the Dwight community, an extensive array of high quality products and continue the nationally recognized Ace helpful customer service. Owners, George Preckwinkle and Lucy Preckwinkle are committed to making Ace a helpful and valuable neighbor to the community, both inside and outside the walls of the store. Store Manager, Tina Hammer, over sees the daily operation of the store along with her 3 assistants. She lives in Pontiac with her husband and 2 young boys. When she is not working, Tina is a den leader for her sons Cub Scout troop and when she finds time she enjoys crafting.