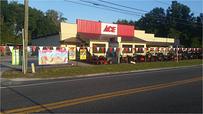 Fort White Hardware
18112 SW State Road 47
Fort White, FL 32038
Phone: (386) 497-1708
Fax: (386) 497-4889
Email:
FortWhite.Hardware@gmail.com
Mon - Fri 8:00 am - 5:00 pm
Sat 8:00 am - 5:00 pm
Sun 10:00 am - 4:00 pm Paul Barcia, Jr
Manager
Paul Barcia, Jr
Owner
The Herlong's first opened this store in 1984 and operated it till 2001, when it was sold to the Milton's. They operated it till 2012. After remodeling the outside we added Outdoor Power Equipment Sales/Service to the mix starting with Ariens (Gravely) and Husqvarna. In November 2014, we added STIHL to our handheld offering, which it proved the be a wise decision. Recently, December 2016, we added Bad Boy Mowers to our offerings. This family run business has had a long time presence in southern Columbia County for over 60 years and we understand the local needs, being helpful and finding a solution for whatever situation, even if we cannot directly solve it. We look forward to the Partnership with ACE and being the local Helpful Hardware Folks.
Ariens
BLACK+DECKER
Bad Boy Mowers
Clark+Kensington
Craftsman
DEWALT
STIHL
Valspar
YETI