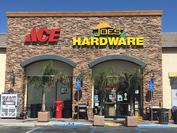 Joe's Ace Hardware
25341 Railroad Canyon Rd
Lake Elsinore, CA 92532
Phone: (951) 244-4563
Fax: (951) 244-3822
Email:
dave@joeshdwe.com
Mon - Fri 8:00 am - 6:00 pm
Sat 8:00 am - 6:00 pm
Sun 9:00 am - 5:00 pm

Joe DeRoest
Owner

Dave Reidmuller
Manager
As your local Ace Hardware, Joe's Hardware is a member of the largest retailer-owned hardware cooperative in the industry. Every Ace Hardware store is independently owned. Joe's is unique and tailored to meet the needs of our community. Whether it's marine hardware for your dock or boat, nuts and bolts for your newest hot rod project, paint for the baby's room, or a Traeger grill to finish off that outdoor kitchen, we are here to help! We are committed to being "the Helpful Place" by offering our customers knowledgeable advice, helpful service and quality products. As the helpful hardware folks in our community, we promise that, "helping you is the most important thing we have to do today."