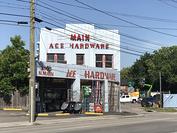 Main Ace Hardware
3805 N Main St
Houston, TX 77009
Phone: (713) 862-9992
Fax: (713) 715-7059
Email:
mainacehardware@gmail.com
Mon - Fri 7:00 am - 5:30 pm
Sat 8:00 am - 4:00 pm
Sun Closed Gary Jones Jr
Owner Denise
Manager
We have been a hardware store since 1918 and became an Ace Hardware in the early 70's. Our staff is very knowledgeable and helpful. If you can't find it here, we will be glad to order for you or let you know where you can find it in another store. We are a small store from the outside, but inside we are stocked to the ceiling. We also have a tool rental company directly behind our store for your convenience. Come in and say hello. Customers often say, "I never knew this store was here, but I will be coming back."