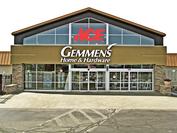 Gemmen's Ace Hardware
3488 Kelly St
Hudsonville, MI 49426
Phone: (616) 669-1118
Curbside Phone: (616) 379-0060
Fax: (616) 669-1320
Email:
andrew@gemmens.com
Mon - Fri 7:30 am - 8:00 pm
Sat 7:30 am - 5:30 pm
Sun Closed

Andrew Gemmen
Owner
Gemmen's Ace Hardware is located in Hudsonville, MI and is proud to celebrate over 65 years as your hometown hardware store. In 1955, our founder Al Gemmen purchased Meyer's Hardware and changed the name to Gemmen's. When he took over Meyer's Hardware it was mainly a plumbing supply store and Al decided to expand into other areas. In the early years, Al ran Gemmen's with only himself and a single employee. As Hudsonville grew so did Gemmen's. Hard work and loyal customers quickly led to a prospering business and the need for an expansion into a new store. What began as a 4,000 square foot store with one employee has grown into 42,000 square feet with more than fifty employees! Our location and size may have changed, but our mission has always been the same. At Gemmen's, the customer always comes first. Our philosophy is simple: serve others as we would like to be served. We are not only your hometown store, we are your friends and neighbors and we are proud to know you by name.