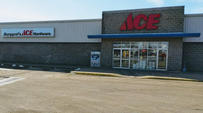 Burggraf's Ace Hardware
320 W 2nd St
Winona, MN 55987
Phone: (507) 454-6830
Curbside Phone: (507) 454-6830
Email:
support@burggrafsace.com
Mon - Fri 8:00 am - 6:00 pm
Sat 8:00 am - 4:00 pm
Sun 10:00 am - 4:00 pm

LISA BUSKE
Manager

Steve Burggraf
Owner
In 2017, Steve Burggraf purchased Danielson Ace Hardware in Winona, MN. After a full remodel, it opened as Burggraf's Ace Hardware, offering the same great service that all Ace Hardwares are known for. Burggraf's Ace Hardware started in Fosston, MN in the early 70's and now Winona has become the 7th Burggraf's Ace Hardware in Minnesota and North Dakota. We are committed to bing "the Helpful Place" by offering our customers personal service, quality products and a convenient shopping experience from local experts who know you best. As the helpful hardware folks in your neighborhood, we promise that helping you is the most important thing we have to do today.