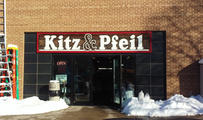 Kitz & Pfeil Ace Hardware
427 N Main St
Oshkosh, WI 54901
Phone: (920) 236-3340
Email:
oshinfo@kitzandpfeil.com
Mon - Fri 7:00am - 8:00pm
Sat 7:30am - 5:00pm
Sun 9:00am - 2:00pm

Jim Stapel
Owner

Kyle Heinrich
Manager
Since 1913 we've been serving you, our friends and neighbors, with a lock for the back door or shed, a bolt or screw, something to kill the weeds or make your lawn and garden grow, a left-handed nut or pop rivet. These and over 80,000 other problem solving products and the people who know how to use them are what our hardware business is made of. As your local Ace Hardware we are one of 5,000+ Ace stores locally owned and operated across the globe. We are committed to being "the Helpful Place" by offering you personal service, quality products and a convenient shopping experience from the local experts who know you best.