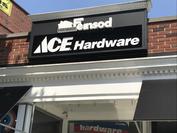 Feinsod Hardware Co
268 Sound Beach Ave
Old Greenwich, CT 06870
Phone: (203) 637-3641
Email:
jay@feinsodhardware.com
Mon - Fri 8:00 am - 5:30 pm
Sat 8:00 am - 5:30 pm
Sun 10:00 am - 3:00 pm Owner Manager
Feinsod Ace Hardware offers over 40,000 different products including paint and paint sundries, hand & power tools, hardware, electrical, plumbing, outdoor living and lawn and garden products and so much more. We are open to meet your daily needs. We are accepting curbside orders with credit card payment. Your order can be picked up in the green bins in front of the store.