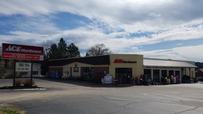 E. M. Heath Hardware
318 Whittier Hwy
Center Harbor, NH 03226
Phone: (603) 253-4381
Email:
esnyder@metrocast.net
Mon - Fri 7:00am - 5:30pm
Sat 7:00am - 5:30pm
Sun 8:00am - 4:00pm Owner

Erik Snyder
Manager
E.M. Heath Inc was established in 1945 as a general store known locally as the "Dealer in Most Everything". We have always been community minded and the intent is that we stay that way by supporting, sponsoring, or contributing, time, goods, and/or funds to local community projects, schools, and organizations. We are all committed to being "the Helpful Place" by offering our customers personal service, quality products and a convenient shopping experience from the local experts who know you best. As the helpful hardware folks in your neighborhood, we promise that helping you is the most important thing we have to do today.