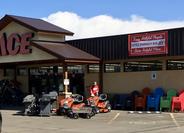 Fullmer's Ace Hardware
820 W Tomichi Ave
Gunnison, CO 81230
Phone: (970) 641-1212
Email:
info@coloradohelpfulplace.com
Mon - Fri 7:30 am - 4:30 pm
Sat 9:00 am - 4:00 pm
Sun 9:00 am - 4:00 pm
Kirby & Nick Kuklenski
Owner

Gary Christopher
Manager
Fullmer's Ace Hardware is a long-standing staple of Gunnison, Colorado, serving the community for over 40 years under the direction of J.R. Fullmer & family. Since changing hands in the summer of 2019, Fullmer's Ace is now proudly owned & operated by Colorado residents, Nick and Kirby Kuklenski. Combining their passion for serving local residents and love of retail, Fullmer's became the 6th store in a 6 store chain for The Kuklenski brothers. We are committed to upholding the integrity of Fullmer's Ace Hardware by offering convenience, local relevance, top-notch customer service & quality products to the residents of Gunnison Valley. Excerpt from the Gunnison Country Times: June 6, 2019. Quoting Nick Kuklenski: "This place is an institution and we're honored to be a part of it," he said. "J.R. and his team have done a fantastic job with this store." See: www.coloradohelpfulplace.com for a full list of The Kuklenski brothers hardware store locations.