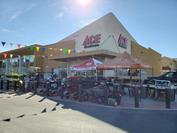 Kabat's San Tan Ace Hardware
40649 N Gantzel Rd
San Tan Valley, AZ 85140
Phone: (480) 500-6146
Email:
brian@kabatsace.com
Mon - Fri 7:00 am - 6:00 pm
Sat 7:00 am - 6:00 pm
Sun 9:00 am - 5:00 pm
Brian & Ashley Kabat
Owner

Stacy Hernandez
Manager
We Are A Passionate Team! Why choose us? The Kabat's have been in the hardware business since 1977 in St Helen Michigan. The Kabat's believe in offering guests the most friendly and knowledgeable service in ALL of their convenient hardware stores located in Apache Junction, East Mesa, San Tan Valley and soon to be Yuma, AZ. We serve all surrounding areas. Kabat's Ace Hardware stores are truly family businesses with all Arizona Members of the Kabat Family working at the stores. The Kabat's are very proud of all their team and feel they are the best in the hardware business. from the largest paint, keys and most complete nut and bolt selections in the area, we honestly feel we have you covered in all areas of home improvement. And as always, you are treated not just as a valued customer but as a guest and a friend. Please stop in to meet us and experience the difference!