Cancer, Don't Fight It Alone
After a devastating phone call, an Ace team member suffered silently until her loving community came to her aid. Years later, the lesson: Never feel as if you have to battle anything alone. This is Sue's story.
No one likes hearing the phrase, "I have good news and I have bad news, which do you want first?" Most opt for the bad news first, only to be uplifted with that burst of positive information, which tends to set our minds at ease, at least a bit. But when the message only contains bad news, where do we turn?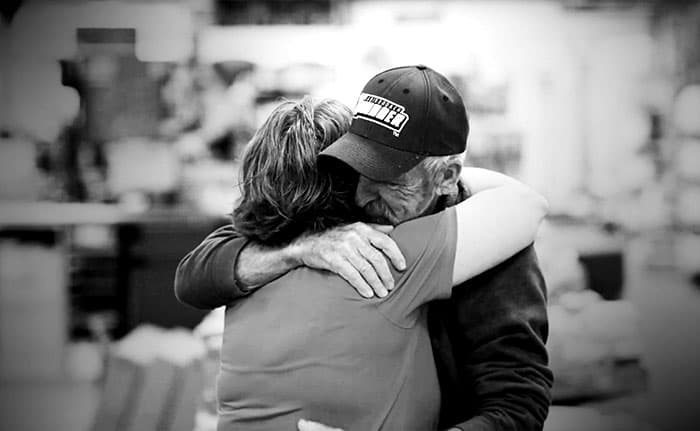 In October of 2009, Sue Mattison, a team member at Noble Ace Hardware in South Glens Falls, N.Y., was at work when she got a fateful call from her doctor: She had breast cancer.
Hearing that word — cancer — stopped Sue dead in her tracks. She couldn't see a future and thought this was the end of her life. She rushed home to the open arms of her family, but still had no hope. As she began treatment, Sue also started preparing her family and her home for a life without her. She shed many tears, but never once asked, "Why me?" That's because Sue is a giver; she's always there for others but never likes to ask for help or have attention put on her. She initially didn't tell anyone at work about her diagnosis and treatment. Then her hair started falling out.
Horror turns to hope
Knowing she couldn't hide her illness as her full head of light brown hair started to thin out, she turned to her boss with the news, who then slowly and compassionately shared it with other team members. Before she knew it, Sue, who had been reluctant to tell anyone outside of her family about her cancer, started receiving love from every direction. Her team in South Glens Falls quickly showed Sue they're more than just co-workers, but rather a family. They rallied around her, gave her support, helped her find local resources to get more information on battling cancer and reminded her she needed to fight and to never give up. "Knowing they did that for me, I'd be able to get through the tough times of the chemo and radiation I was going to go through," Sue recalls.
But it was when Sue came in to work one day she saw something that really moved her and reminded her how much her Noble Ace crew was really her family. "I walked in one day, it was a Friday, and one of my co-workers had started a hat and scarf day." So, every Friday after that, while Sue went through treatment, everyone wore a hat or scarf to help Sue feel less conscious about losing her hair.
Sue endured four rounds of chemotherapy and seven weeks of daily radiation treatments, all the while getting love and support from her now-extended family. Her tumors started shrinking, her hair started growing back and then Sue finally got that good news: She was in remission.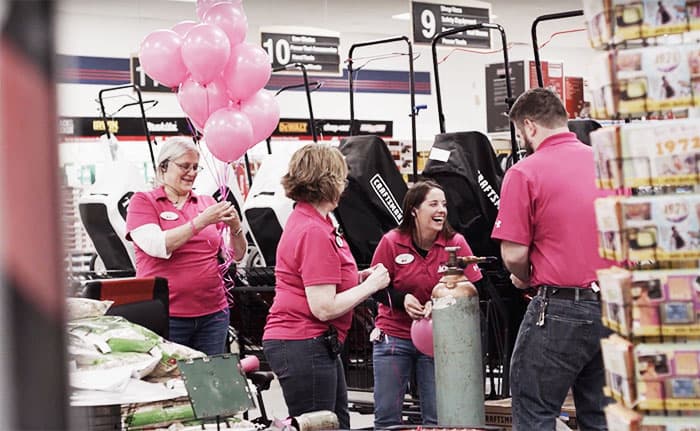 Helping the community
Sue's ordeal started in 2009 and today, a decade later, she can call herself a cancer survivor! At first, Sue didn't want any outside attention or to burden anyone with what she felt was her own issue to deal with. She quickly realized it's OK to reach out and that people actually do want to help, care and share their love and support. Sue coming forward with her cancer diagnosis reverberated through their small Upstate New York community.
In October, 2010, the Noble Ace team launched its first event at the store to raise money and attention for a local cancer organization. Some people heard Sue's story and were able to open up about their own illnesses. Others reached out to make donations and offer help however they could. The following year, the store added a bake sale and it has become an annual tradition the Noble Ace family and its extended South Glens Falls community looks forward to — everyone even wears pink Ace shirts the store had made up. Her Ace family continues to support Sue and her story has inspired many, including store manager Samantha Hansen, who says, "Sue's journey has inspired me to live life to the fullest because you never know what can happen. She's a true survivor and a person who inspires you to do and be better."
Now that she can say she's a survivor, Sue looks back at this experience with tears — both of sadness reflecting on how she came close to death and of joy knowing she truly was never alone. She can now more easily let go of the small things life throws at us and focus on what matters most to her: friends, family and truly living. "Yes, life is short," Sue says, "but this has opened me up to living each day to the fullest."
Cancer Don't Fight It Alone