Charity to Loved Ones
You never want to hear the words, "Your child is going to the hospital." But after years of fundraising through their Ace Hardware store for the Children's Miracle Network at Texas Children's hospital in Houston, that's exactly what Bill and Susan heard about their grandson. Thankfully their family trusted the doctors at Texas Children's and knew Henry would be in good hands. Here is their story.
By Ari Bendersky
In 1996, Bill and Susan opened Cypress Ace Hardware & Feed. As a young couple with two small children at home, the couple eagerly and happily built their store and quickly became part of their community. People leaned on them for everything from general hardware needs to lifestyle items like barbecue grills, gifts and even food for their pets and horses. The store historically housed numerous mailboxes for locals, something Bill & Susan continues to do today at Cypress Ace. It's just another way they have installed themselves as part of the community and help endear their store to many local people.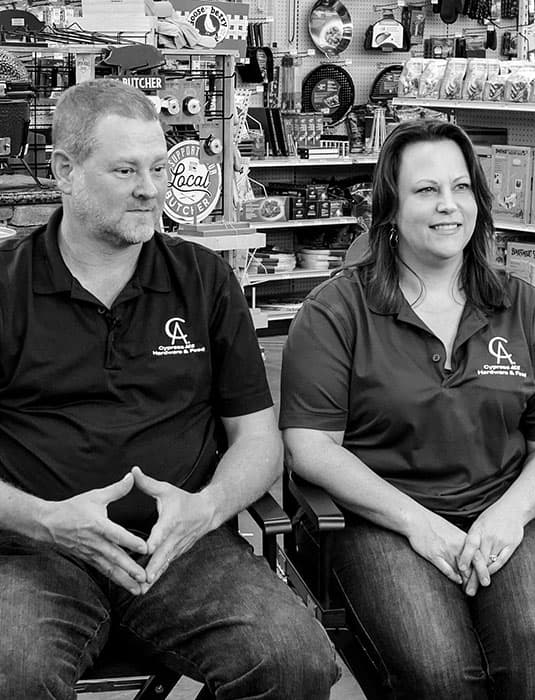 Fundraising for the kids!
As part of a larger national Ace philanthropic initiative, they have led fundraising efforts for more than two decades to help benefit Children's Miracle Network. Money raised from a variety of ways, including asking customers to round up their purchase to the nearest dollar, over the last two decades have directly supported the hard work of doctors, nurses and other medical staff at Texas Children's Hospital in Houston, which is the largest children's hospital in the United States. To say they need a lot of funds to help hundreds of sick children would be an understatement.
In 2011, the family and their staff launched Grill Your Ace Off, which has become their most-popular fundraising event. Each year, 20 teams compete in this barbecue cook off for the title of top 'cue in the People's Choice arena. Cypress Ace provides each team with either a Big Green Egg or Traeger Pro Series 22 to use during the competition. The event welcomes hundreds of people to sample a variety of food each fall with all proceeds benefitting Children's Miracle Network. To date, Bill & Susan and Cypress Ace have donated more than $365,000 to the hospital and aren't slowing down anytime soon.
And it's a good thing they continue to raise that money.
Tragedy strikes close to home
One day in 2013, their daughter, now a mother herself, found her 15-month-old son, Henry, unresponsive lying on the floor. Henry was normally a very energetic, happy child with a head full of blond hair and a smile that could light up a room. They rushed Henry to the doctor, where they ran tests. With nothing coming back conclusive, it was what was next that at the same time scared them, but also put them somewhat at ease.
"You never want to hear the words, 'Your child is going to the hospital," Bill says. "But you're glad your child is going to Children's Miracle Network Hospital of Texas."
With something that started out of the goodness of their hearts for an organization they've supported for more than two decades, now became a necessity for the family. It took a year of seeing various specialists and conducting countless tests, but the family discovered little Henry had a rare case of autoimmune encephalitis. When this happens, the body's immune system mistakenly attacks healthy brain cells, causing swelling of the brain.
Because of this, Henry has dozens of small seizures throughout his day and has difficulty with his balance. It can be controlled with medicine and therapy and it's something Henry will likely have to deal with for the rest of his life. Other than this medical setback, Henry lives an otherwise healthy and normal life. He plays with his siblings, loves toys, sports and all things many other children do. He's very active and loves — truly loves — telling a good joke. He always makes people laugh.
"If anything brought it back full circle, it was that day we found Henry unresponsive," Susan says. "Texas Children's has been a blessing to have in our community."
A special hospital clinic
Henry found a bit of a guardian angel when he met Dr. Muscal. This kind-hearted, sweet-natured doctor has treated Henry since he was little and continues to care for him almost as if he were his own child. Dr. Muscal, or as the family call him, the Mighty Muscal, also got a gift. Through fundraising efforts by Bill & Susan and Cypress Ace, they were able to help fund a special ward at Texas Children's, where Dr. Muscal and his colleagues now have the time and resources to dedicate to helping kids like Henry who have rare diseases.
It's this special relationship between Ace and Children's Miracle Network that bonds the company even more to its communities and gives people a reason to dig deep into their pockets. And it's the couple — and a deep love that bonds their family — that continue to help children all over Texas, just like they did for Henry.