Homeless Cats Find Shelter
It is said cats have nine lives. For a group of feral cats in a small town in western New York, their longevity is being helped through the efforts of a few kind-hearted folks at Standish-Jones Building Supply Ace Hardware. When the cats' population grew to unhealthy numbers causing fights, loud mating and decreased food sources, these people stepped up to help control the cat community. Now, there's once again peace in Gasport, N.Y.
At Standish-Jones Ace Hardware Building Supply, it's always Christmas. Yes, western New York near Buffalo has a reputation for getting dumped on with crazy amounts of snow during winter, but that's not why it's always Christmas. What makes it special is the Always Christmas novelty shop located on the second floor of this multi-purpose hardware store in Gasport, N.Y. Here, people can buy festive holiday items year-round. It's just one aspect that makes people smile here all year. Another thing that forces smiles? The cats.
Yes, cats. Standish-Jones has earned a reputation as a place where friendly cats roam freely, greet customers and hang out by the register accepting head scratches and love from the staff and customers. But it wasn't always this way. Back in 2013, the area around Standish-Jones had a feral cat problem. A bad one. The cats almost took over control of the lumber yard with their mating, fighting, new kittens dying due to illness and lack of food and other shenanigans. It got to the point that owner Kitty and team member Emily , a devout cat lover, devised a plan. They teamed up with a local animal rescue group that does TNVR — trap, neuter, vaccinate, return — to nip the issue in the bud and help control the cat population.
Trapping the cats
In order for the plan to work, they first needed to raise money. Emily and Kitty needed to drum up support from the neighborhood, where people were aware of the cat issue. The store, which dates back to 1921 and sits on a compound comprising a half dozen or so buildings dating back to the late 1800s or early 1900s when it was a pickling factory, lies adjacent to a railway and the Erie Canal. This allows for an easy thoroughfare for the cats to travel and because the compound houses open lumber yards, it served as a warm shelter for the cats. Neighbors, both other businesses and residents, around the hardware store, had complaints of their own in regard to the cats, so Emily and Kitty felt getting support would be easy.
"People thought we were crazy," Emily says about wanting to trap the cats. "We went door to door in the area to tell people we were going to trap the cats and try to drum up support and volunteer help."
They did get support. A restaurant next door had its own issues and raised money. A local church closed down and had to disperse its funds so they received $2,000. All told, they raised enough to initially trap 46 adult cats and 12 kittens. That was in September of 2013 and they've since trapped and fixed 100 cats. Some cats were evaluated and deemed adoptable so they found good homes for them to live.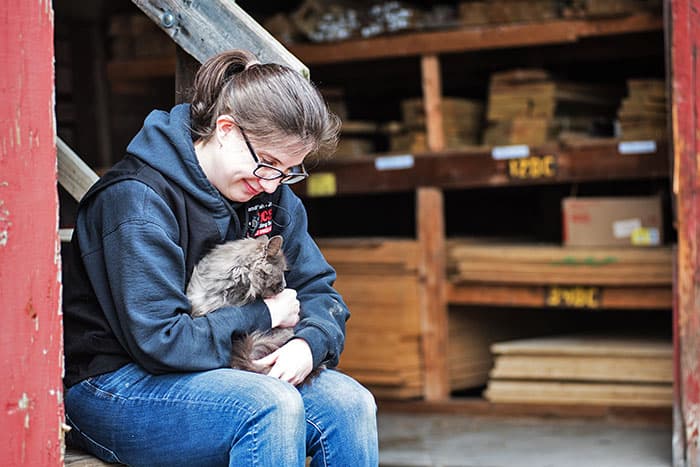 Establishing a cat colony
The TNVR plan proved successful, so much that the cats have established a proper colony. They get fed daily, receive medicine if they're sick and get their vaccination shots. Since they're spayed and neutered, they don't mate and produce more cats so the population is under control. That said, sometimes someone new shows up.
"If any new cats come in, they get trapped and fixed," Emily admits.
You can maybe call that colony control.
The news around the cat colony has caught on with the locals that customers come by to see the cats. For the most part, they visit with the two cats who have made the inside of Standish-Jones their homes. They're now the official store mascots and have freedom to roam the store, but tend to hang out up near the front of the store to greet customers.
Looks like they're living this one life pretty nicely.
Homeless Cats Find Shelter