Hurricane Harvey Can't Shut Us Down
After rushing home from what was to be a fun weekend reconnecting with old friends, one couple finds themselves in the midst of a harrowing hurricane that devastated their town. The one thing that set them apart from the rest? They own the local Ace Hardware. Knowing the town would depend on them and their team, they opened just days after Harvey ripped through the area. Even while missing part of the roof, with water everywhere in the store, Salemi's Ace made sure they were there for the people of Rockport.
At a time of year when temperatures soar, locals and visitors flock to the long sandy beaches of the Texas Gulf Coast to find a little reprieve from the oppressive heat. It's when families and friends get together to enjoy the last moments of summer before school starts and life starts to move at a faster pace. It's when people head out on boats to enjoy the sun while being cooled by the water. But it's also a time, especially in this part of the country, where residents get put on high alert because it's also the height of hurricane season.
This was tested in 2017.
It was late August and store owners Phil and Barbara traveled to Memphis where they were to attend Bob's 40th high school reunion. As they arrived, news broke that the storm brewing in the Gulf was increasing and heading directly for their home in Rockport. Unsettled by this, knowing their dogs were at a kennel, Barbara left almost immediately to head back home. Phil stayed in Memphis, awaiting news.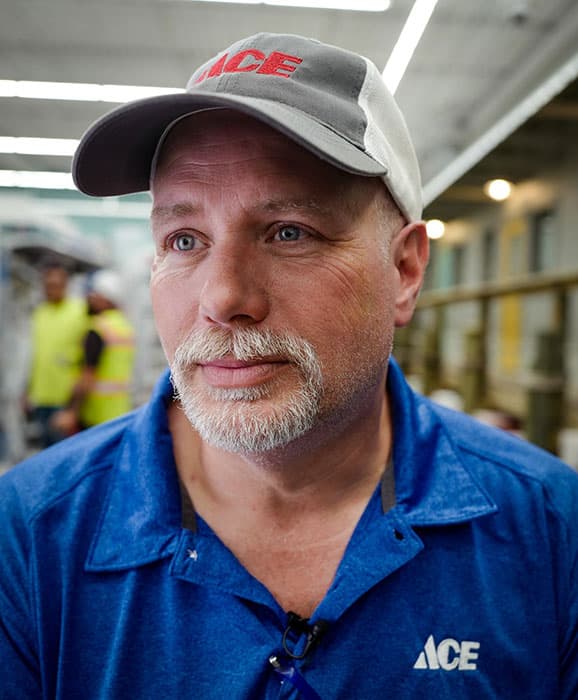 Braving the storm
Barbara, back in Rockport ahead of the storm, retrieved the dogs, who she considers like her children, and headed home. There, she was met by some of her Ace team to help board up windows and brave the storm, which hit on Friday, Aug. 25. Barbara says the winds and rain thunderously pummeled their sturdy home as she and the dogs huddled together in the bathroom. She says it was one of the most terrifying moments of her life, not knowing if they were going to make it out alive. Thankfully they all did and the worst of the storm had passed, but the rains continued.
The next morning, she and Phil, who wouldn't be able to get home for another couple of days, communicated with store manager, Bob, to ensure everyone was safe. Bob and his family rode out the storm in the store as Harvey essentially destroyed his home. But he was committed to make sure the Ace kept standing. The building sustained some damage; part of the roof was pulled off, allowing for massive amounts of water to rush into the sprawling space. Yet Bob stayed put as he felt it was still one of the safest places he could hunker down.
Opening for the community
As the storm finally moved out of the area, this town of about 9,000 people started assessing the damage, which was hefty. Many homes were damaged or destroyed and residents needed materials and everyday supplies. With Phil now back in Rockport, he and a bare bones team got to work to get the store open, even if they needed to use generators for limited power. The store wasn't safe enough to allow customers in to shop, so the Ace team would meet customers at the front doors, get their orders — a hammer, shovels, hoses, even dog food — and track down the products using flashlights. They couldn't process credit cards and could only accept cash for the first while. Even then, people didn't always have access to cash so they'd give away some products for free. Phil even handed out $100 bills to people who were desperate.
People were relying on Ace, which was the first store in town to open after the storm, to get their necessities. And Phil, Barbara and Bob knew that. This wasn't about making money. This was about making sure people were being taken care of, even if it was getting a much-needed hug, which Barbara became an expert at doling out.
"You could see immediately on people's faces how much they appreciated we were there," Barbara says. "You could see how distraught people were."
Team members, many not having a home to return to, went back to the store looking to get back to work. They just wanted to do something and they knew their community needed their help.
Ace lends a helping hand
An Ace corporate team and owners of other Ace stores around the country came to help. Initially, Ace corporate sent truckloads of water and products — even chainsaws — to help the people of Rockport. A group from an Ace store in Houston came down to cook and serve lunch for the Salemi's Ace staff. This was truly a time when people needed help and the extended Ace family showed up.
"As Ace owners, we're all part of our community and no one would abandon our communities," Phil adds. "We're simply going to be there. It's a given we're going to be there."
It took about six months for the Rockport Ace to be nearly 100 percent operational and back to its pre-Harvey status. But the team worked hard and they got it done. As Bob says, it's just what they do.
Hurricane Harvey Can't Shut Us Down