The Community Mural
The Durango-Silverton Narrow Gauge Railroad has traveled between its two namesake Colorado mountain towns since 1882, hauling necessary supplies to rangers, ranchers and homesteaders who first populated the area. As more people settled, a supply store opened near the railroad tracks in the late 1800s to supply the townsfolk with supplies like coal and animal feed. In 1921, brothers Fred and John Kroeger bought the store in 1921 and renamed it Farmers Supply Company, which would eventually become Kroeger's Ace. The store would vastly expand its offerings, adding heavy hardware, water systems, lawn and garden supplies and, of course, paint.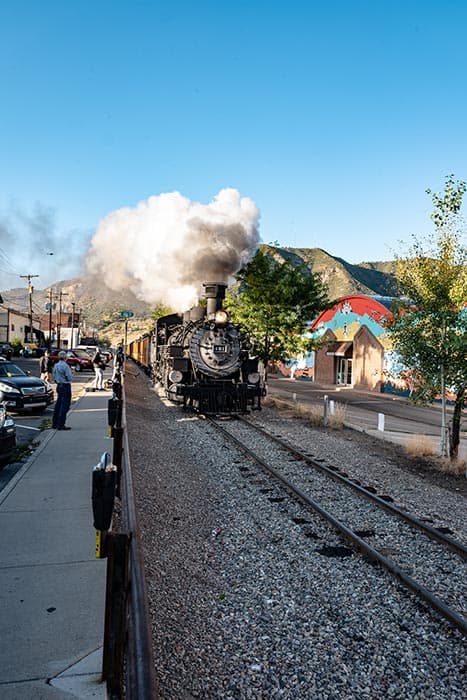 Over the last nearly 100 years, Kroeger's Ace has served the community and has grown as Durango has blossomed into the gorgeous mountain resort town it is today. Owners Joel and Marge Krueger bought the store in 2006 after Joel had worked there for many years. He learned that it wasn't enough to have quality products and top-notch customer service, but also to give back to the community that supports the store. Their giving centers around children, women and people in need.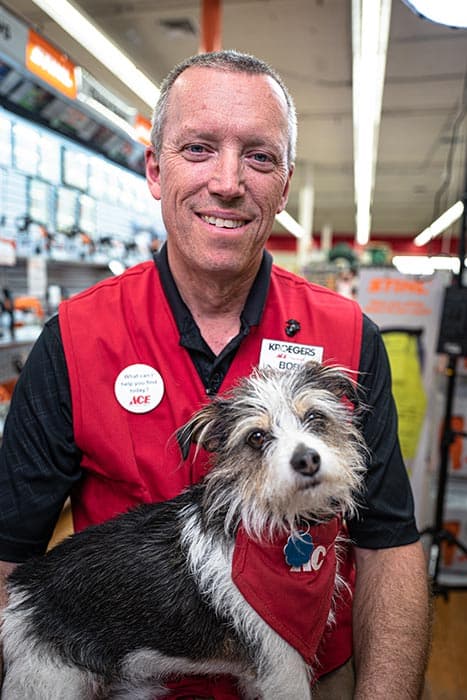 People come to Durango for many reasons: skiing, hiking, fresh mountain air. But also, the arts. The city has a thriving arts scene, and that includes a thriving public art collection comprising nearly three dozen pieces worth well over $1 million. More than a decade ago, Joel realized the 300-foot-long wall on the backside of the more than 28,500-square-foot store alongside the Durango-Silverton rail tracks could serve a larger purpose than its existence as a stark, white wall. He approached the city council, but because certain regulations existed, his request to add a mural was denied.
Fast forward to 2018 and Joel received a call from someone who worked with the city of Durango. They remembered his request to add a mural and now they wanted to pair up Kroerger's Ace with Local First, a Durango non-profit group that works to have residents shop, eat and create locally to keep local dollars in Durango, which includes shopping at Ace. Artist Hayley Kirkman, the Local First creative arts coordinator, along with artists Lexis Loeb and Matthew French-Holt, worked with Joel and his team at Kroerger's Ace to conceptualize a mural. It would eventually cover the 300-foot wall that faces the historic Durango-Silverton coal-fired steam engine train, which passes by the store numerous times a day with tourists.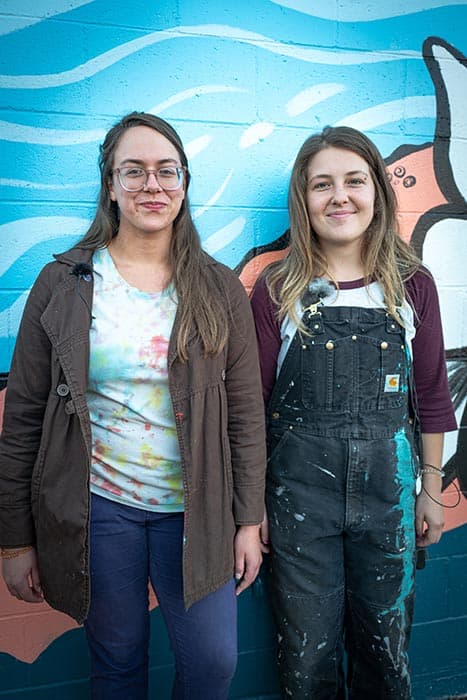 The Town Plaza Mural project received a $5,000 grant and Kroeger's Ace supplied paint, brushes and other materials to ensure the mural would get completed. Over the course of many weeks, the team worked diligently, even setting up tall scaffolding so they could reach the upper parts of the wall. Today, the mural showcases Durango's history and natural beauty through scenes including the Animas River, animals, plants and flowers native to the area and also the railroad tracks. They also recruited a native American artist from a local tribe to add a scene showing a tribal ritual, as it plays a significant part of the area's history and culture.
Now that the mural is completed, Joel looks at it with a source of pride that his team and store could further have a connection to the Durango community. They ensure it remains free of debris and any graffiti by frequent cleaning. The artists will touch up the mural with paint supplied by Ace so it continues to shine. The mural project is just one of the many ways Joel Krueger and his team give back to their community. They earmark about $50,000 annually for local organizations, especially children, the needy and woman who can't otherwise afford proper care for breast cancer screening and treatment.
"We do it because it's the right thing to do and the community rewards us for that," Joel says.
What goes around comes around.