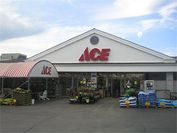 John W Weiss Ace Hardware
1560 Waukegan Rd
Glenview, IL 60025
Phone: (847) 724-3444
Fax: (847) 724-0241
Email:
glenview@weissace.com
Mon - Fri 8:00 am - 7:00 pm
Sat 8:00 am - 6:00 pm
Sun 9:00 am - 5:00 pm
Jon Weiss
Owner Karen Kolod/Lynne Rine/Bill McKay
Manager
Weiss Ace Hardware has been serving the community since 1931. John Weiss and Art Olson started in Evanston. Olson left the business in 1949, and when Weiss passed away in 1953, his son, Jon left college to help his mom run the business. In 1960, he moved the business to Glenview at 1509 Waukegan (currently Staples), and in 1983 moved to it's current location. Today, Jon Weiss still overseas all business operations. Two of Jon's children, Lynne and JT, have followed the family heritage working in the store. Growing up in this business, we realize the value of hard work, and that it takes a team to make a good business. We value our relationships with our community, and over the years many of our employees and customers have become like family. What makes us different and unique is our customer service. Weiss Ace Hardware is committed to being the "Helpful Place" by offering our customers knowledgeable advice, helpful service, and quality products.