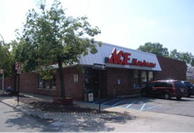 SCHEER'S ACE HARDWARE
8601 W 9 Mile Rd
Oak Park, MI 48237
Phone: (248) 542-1802
Email:
scheersace@comcast.net
Mon - Fri 8:00 am - 6:00 pm
Sat 9:00 am - 6:00 pm
Sun 10:00 am - 5:00 pm Carol S & Paul K
Owner Manager
Scheer's Ace Hardware was founded by Martin & Philip Scheer in 1946. It was originally started as 'Scheer's Trading Post' but joined Ace in 1958. Their first store was opened in Ferndale with the intention of opening a second store in Oak Park (1948). The store they were leasing in Ferndale did not extend their lease because they wanted to expand the store next to them. They moved to their current location in 1968 and about 10 years later bought the attached building owned by Estes Electronics. Approximately two years later they purchased the field next to it and paved the way for a new parking lot and entrance. Marty's daughter Carol; and Paul Krupkin are the current owners. Howard,Phil's son and previous partner of Carol and Paul,retired December 2009.