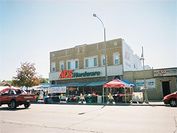 Berwyn Ace Hardware
6316-18 Ogden Ave
Berwyn, IL 60402
Phone: (708) 795-6060
Fax: (708) 795-6081
Email:
berwynace@att.net
Mon - Fri 8:30 am - 7:00 pm
Sat 8:30 am - 5:00 pm
Sun 9:00 am - 5:00 pm Ken Cechura / Bruce Brucki
Owner Ken Cechura / Bruce Brucki
Manager
As your local Ace Hardware, our store is a member of the largest retailer-owned hardware cooperative in the industry. Berwyn Ace Hardware was founded in 1926 by Tom and Edna Jansky. Ace Hardware has grown to include more than 4,600 stores in 50 states and more than 70 countries.As part of a cooperative, every Ace Hardware store is independently owned. Serving the Berwyn area and near west suburbs for over 90 years,we are committed to being "the Helpful Place" by offering our customers knowledgeable advice, helpful service and quality products. As the helpful hardware folks in your community, we promise that, "helping you is the most important thing we have to do today."