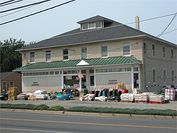 F N Smith Hardware
3803 Norrisville Rd
Jarrettsville, MD 21084
Phone: (410) 692-5105
Fax: (410) 692-6844
Email:
fnsmith3@hotmail.com
Mon - Fri 8:00 am - 8:00 pm
Sat 8:00 am - 6:00 pm
Sun 8:00 am - 6:00 pm Lex and Nelson Smith
Owner Manager
In the late eighteen hundreds at Schuster and Norrisville Roads, Charles Amerien operated a blacksmith shop. In 1902, he sold the business & property to Alex Y. Watters. As his family grew so did the business adding stables, wagon sheds & hardware sales. In 1928 he constructed the block building still in use today. In 1944, Alex's sons took over. By now, Watters Brothers was a hardware store as well as a dealer of farm equipment & livestock supplies. For nearly 30 years they continued to meet the changing demands of the community. In 1973 the business was sold to Mr. & Mrs. F. Nelson Smith, Jr. It would be their sons: Nelson, III and Lex who learned the trade from the Watters brothers with Mrs. Smith doing the daily bookwork. Now, over 40 years later, the Smith family continues to serve Jarrettsville and the surrounding communities.
Clark+Kensington
Craftsman
DEWALT
ECHO
Lignetics
Scotts
Valspar