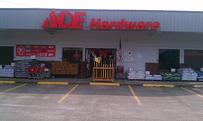 Sweeny's Ace Hardware
114 A Alder Avenue N W
Napavine, WA 98565
Phone: (360) 266-1112
Fax: (360) 266-1113
Email:
sweenysace@live.com
Mon - Fri 8:30 am - 5:30 pm
Sat 8:30 am - 5:00 pm
Sun 10:00 am - 4:00 pm
Meet Our Staff

Lloyd Anderson
Manager

Chuck Wagner
Customer Service
John Sweeny
Owner
Darlene Williams
Lawn and Garden Specialist

Boots
Supervisor
About This Store
The Sweeny's built this store ground up in 1997. We have been servicing Napavine, Wa. A small town of 2000 people . We are commited to personal service. Special orders always welcome.
Featured Brands