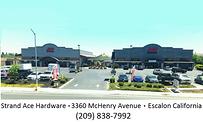 Strand Ace Hardware Inc
3360 McHenry Ave
Escalon, CA 95320
Phone: (209) 838-7992
Fax: (209) 838-6107
Email:
info@strandace.com
Mon - Fri 7:00 am - 7:00 pm
Sat 7:00 am - 7:00 pm
Sun 9:00 am - 6:00 pm
Larry, Agatha, Chris, and Dirk Swanson
Owner
Kris Roberts
Manager
Staff
Staff
Strand Ace Hardware, Inc. originally started as Strand Brothers Hardware on 2nd Street in Escalon. It was sold to the current owners, the Swanson family in 1975. At this time we become part of the Ace Hardware Co-op and kept the Strand's name as gratitude towards the Strand family making it Strand Ace Hardware. In 1979 we moved from the 2,500 square foot building on 2nd Street to a 6,000 square foot building on Main Street. As the community grew so did the needs of the business. In 2006 we moved again to the current location on McHenry Avenue growing the business to 16,500 square feet. In 2015 as part of an expansion project the business added another 11,000 square feet adding a garden center, lumber, and rentals. We still maintain a small town feel and look forward to continued support and involvement from our family to ensure Strand Ace Hardware continues serving the needs of our employees, customers, and community.
Big Green Egg
Carhartt
Clark+Kensington
Craftsman
DEWALT
Husqvarna
Magnolia Home Paint
Toro
Traeger
Valspar
Weber
Yeti