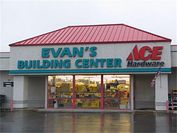 Evan's Building Center
931 State Street
Eagle, ID 83616
Phone: (208) 939-6435
Fax: (208) 939-8214
Email:
office@evansbuildingcenter.com
Mon - Fri 8:00 am - 6:00 pm
Sat 9:00 am - 4:00 pm
Sun 9:00 am - 4:00 pm Browns's Industries
Owner

Dennis Skinner
Manager
Evans has a knowledgeable staff, committed to helping you. As an Ace Hardware Dealer, Evans is part of the largest hardware cooperative in the nation. With more than 170 years of combined experience among our employees, we can get you set with what you need for your home or business. At Evans, you can park in front, get the help you need, and be on your way. We understand you're busy, and our goal is to give you the service you need quickly and get you back to your tight schedule. You can also order from Ace 24/7, and get free in-store pickup!