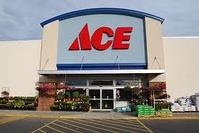 Longview Ace Hardware
600 Triangle Mall
Longview, WA 98632
Phone: (360) 501-6001
Email:
hardware10292@hmstores.com
Mon - Fri 8:00 am - 9:00 pm
Sat 8:00 am - 7:00 pm
Sun 9:00 am - 6:00 pm Owner Jeffrey Knox
Manager
Family-owned and operated HouseMart is the parent brand of 24 Ace Hardware stores in Hawaii, Washington, Oregon and Nevada. Headquartered in Honolulu, the company began as a small dry goods store and has grown into a multi-state business serving communities for over 60 years. HouseMart prides itself on exceptional service and creative solutions to enhance its customers lifestyles. For more information about HouseMart, visit www.hmstores.com or contact (808) 838-7773.
We are looking for fun enthusiastic, customer-service oriented and dependable candidates to join our team. We offer 401(k), medical, vacation, sick leave, holiday, employee discounts, paid training, and great career growth opportunities. Visit www.mvlhawaii.com to see our complete job listing.

Contact: email resumes to, resumes@mvlhawaii.com