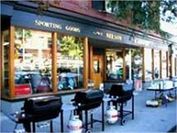 Nelson Hardware
188 N Main St
Barre, VT 05641
Phone: (802) 476-5700
Fax: (802) 479-1914
Email:
AnnetteBoisvert@msn.com
Mon 7:30 am - 6:00 pm
Tues 7:30 am - 6:00 pm
Wed 7:30 am - 6:00 pm
Thurs 7:30 am - 6:00 pm
Fri 7:30 am - 7:00 pm
Sat 7:30 am - 5:00 pm
Sun 9:00 am - 1:00 pm
Traeger Wood Fired grills!
Owner

Annette Boisvert
Manager

Kelly, Bob, Annette
Owner/Managers
The team
Staff party!

Bob, Linda, Ace and Callie
Holidays

Chalk Based Paint
Amy Howard
Nelson Ace Hardware was started in 1983 by Carroll, Sarah and Bob Nelson. The Nelson Family has been serving Vermonters for over 100 years, most recently from 1953-1982 as Nelson Brothers with locations in Barre, Montpelier and Randolph. In 1983, Nelson Hardware was born and it continues to thrive today under the ownership of Bob and Linda Nelson. Nelson's ACE has strong ties to the community, employing many local people, including high school and college age youth. We "specialize in special orders" and will work hard to find the right part or accessory for you. Nelson's is more than a just a hardware store, we have an excellent selection of portable appliances, giftware and housewares items-anything you need for your kitchen! You can recycle fluorescent bulbs and mercury filled thermostats at Nelson's Ace. We carry a huge selection of LED bulbs! We are proud to be a part of the Central Vermont community and hope you will stop and visit! We assemble and deliver. Call for details.
Ace Paint
Amy Howard
BLACK+DECKER
Chicago Metallic Bakeware
Clark+Kensington
Clark+Kensington
CorningWare
Craftsman
Craftsman
DEWALT
Dyson
KitchenAid
Krups
Milwaukee
OXO
Scotts
Toro
Traeger
Valspar
Weber
Weber
Werner
YETI
Flourescent Bulb Recycling
Bring in your burnt out fluorescent bulbs to be recycled at Nelson's ACE Hardware! (Limit 6 bulbs at a time please)While you are here, get the replacement bulbs you need plus $.99 Compact Flourescent Lamps in 10, 16, 20 or 26 Watt sizes.
Mercury Thermostat Recycling
Recycle your old, dangerous, Mercury filled thermostat and get $5.00 in incentive money to spend while you are here! Keep Vermont's water clean by recycling your thermostat!
Drop your alkaline batteries off for recycling!