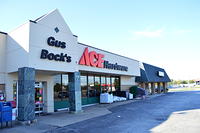 Gus Bock's Ace Hardware
1820 45th St
Munster, IN 46321
Phone: (219) 934-9500
Email:
munster@gbace.com
Mon - Fri 7:30 am - 7:00 pm
Sat 7:30 am - 6:00 pm
Sun 9:00 am - 5:00 pm Rob and Keith Grill
Owner James Jamrock and Adam White
Manager
Gus Bock's Hardware has been in business since 1935 and has been family owned from the start. Keith Grill Sr. purchased Gus Bock's Hardware from Gus Bock in the late 1970's. Keith's sons, Rob and Keith, now own and operate the now 3 locations of Gus Bock Hardware and are keeping the same values that are in the Gus Bock tradition, it's what they know, and hardware is in their blood. The growth and longevity of Gus Bock's comes from customer loyalty and all of the staff at Gus Bock's hardware to maintain the high standard of customer service that has become Gus Bock's hardware trademark. Gus Bock's Hardware is always looking to expand and to continue all of its services to our customers. The staff focuses on the business by keeping the merchandise stocked and servicing its customers. Service is what we have to offer. Because there are so many products out in the market today, we try to get the right product in the customers hands the first time! See you soon!