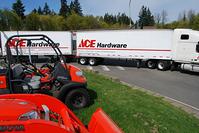 Tozier Brothers
110 Mill St
Shelton, WA 98584
Phone: (360) 868-4352
Fax: (360) 427-8362
Email:
info@tozierbrothers.com
Mon - Fri 7:30 am - 6:30 pm
Sat 7:30 am - 6:30 pm
Sun 9:00 am - 5:00 pm
Art and Evan Tozier
Owner
Mario Garcia
Manager
Discover your friendly, local hardware store in Shelton, Washington. Tozier Bros has been serving our community for more than 125 years. We're still at the same location, and we still offer a fantastic selection of hardware, building supplies, and household goods. We're a true community fixture, and we're proud to continue our legacy of great products, low prices, and amazing customer service.