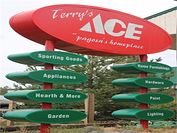 Terry's Ace Hardware
525 Navajo Trail Dr
Pagosa Springs, CO 81147
Phone: (970) 731-4022
Fax: (970) 731-4035
Email:
susan@pagosahomestore.com
Mon - Fri 7:30 am - 6:00 pm
Sat 8:00 am - 5:00 pm
Sun 9:00 am - 4:00 pm

Smith Family
Owner

Susan Garman
Manager
So Much More than Just a Hardware Store! We are locally owned and operated since 1984 with a knowledgeable and friendly staff ready to help you. Our goal is to provide our community with quality selection of products at competitive prices with great customer service. We are the most complete home store in the area with 1000s of items in stock. Our 35,000 sq ft retail store has what you are looking for.From concrete to paint, to that scented candle to complete your space...Terry's Ace is the place. A mercantile for locals, and a bonanza of fun for guests! Visit our website at www.terrysace.com for the latest events and our weekly in-house specials.