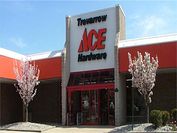 Trevarrow Ace Hardware
97 W Long Lake Rd
Troy, MI 48098
Phone: (248) 689-8030
Email:
trevarrow@yahoo.com
Mon - Fri 8:00 am - 6:00 pm
Sat 8:00 am - 6:00 pm
Sun 9:00 am - 5:00 pm Dennis Garbarz
Owner Bob Jones
Manager
Trevarrow Ace Hardware & Plumbing is the local Ace hardware store serving Troy MI and surrounding communities. Our store started as Trevarrow Plumbing, located on Woodward Avenue between Nine and Ten Mile, in 1928. The plumbing operation prospered and in the mid-1950's, took on hardware. Again, business grew and in 1976, Trevarrow Hardware & Plumbing moved to its current location on Long Lake Road in Troy. The combination of plumbing and hardware is the backbone of our business today. Our on-going mission is to serve the community as "the Helpful Place" by providing knowledgeable advice, helpful service and quality products.