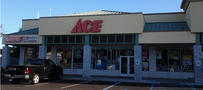 Costello's Ace Hardware
15 W Main Street
East Islip, NY 11730
Phone: (631) 650-6914
Fax: (631) 650-6915
Email:
15280@costellosace.com
Mon - Fri 8:00 am - 9:00 pm
Sat 8:00 am - 9:00 pm
Sun 8:00 am - 6:00 pm

Kelly Lange
Manager

Costello's Ace Hardware
Owner
In 1973, Vincent Costello was searching for a means to support his wife and ten children and was given the opportunity to take over a small hardware store in Deer Park. The store was in desperate need of attention. Mr. Costello had no former experience in retail, but wasn't afraid of hard work or a real challenge. It took nearly five years and a seven-day work week to turn Deer Hills Hardware into a viable business. In 1982, sales were steadily growing and it was time to expand. Vinnie refinanced his home, using the equity to open a second location in Deer Park, catering to industrial clientele. That's when he partnered with Ace Hardware, a group of nearly 5000 independent hardware retailers sharing the philosophy of delivering value-priced products with a high level of customer service. Now Costello's Ace has 15 locations and is run by Vincent and his children. Today the Costello Ace name is recognized for its dedication to value and service throughout Long Island.
Amy Howard
Benjamin Moore
Craftsman
DEWALT
Rubbermaid
STIHL
Scotts
Traeger
Weber
YETI