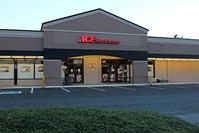 Canby Ace Hardware
1061 SW 1st Ave
Canby, OR 97013
Phone: (503) 263-2500
Email:
canbyacehardware@gmail.com
Mon - Fri 8:00 am - 7:00 pm
Sat 8:00 am - 7:00 pm
Sun 9:00 am - 6:00 pm Curtis Dicken & Mike Pitz
Owner Brian Benson
Manager
Canby Ace Hardware is locally owned and has proudly served the Canby community since 2005. We carry a vast product selection of more than 30,000 items and have the ability to special order over 35,000 additional items within days. You can also order products on AceHardware.com and have them shipped directly to our store with free shipping. We are committed to being "the Helpful Place" by offering our customers knowledgeable advice, helpful service and quality products. As the helpful hardware folks in your community, we promise that, "helping you is the most important thing we have to do today." Come and see us today!