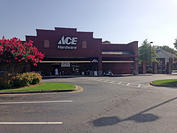 Oakwood Ace Hardware
3446 Winder Hwy
Flowery Branch, GA 30542
Phone: (770) 287-0010
Email:
help@oakwoodace.com
Mon - Fri 9:00 am - 6:00 pm
Sat 9:00 am - 6:00 pm
Sun 11:00 am - 5:00 pm Gary & Jan Vogel
Owner Manager
We are proud to be locally owned and a part of the Hall County community. We live here in Hall County and love the people and the lifestyle we all enjoy. We are all committed to being "The Helpful Place" by offering our customers knowledgeable advice, helpful service and quality products. As the Helpful Hardware Folks in your community, we promise that helping you is the most important thing we have to do today. We are grateful to our customers for voting us the "Best of Hall County" for 2018, 2019, 2020 and again for 2021. Four in a row! We realize there are several very good business options in our area who sell many of the same items we do. To even be mentioned with these folks is an honor we will not take lightly. We promise to continue to be the place you can depend on for your home and business needs. We will be your place for all the basics you expect from Ace, and also strive to bring you unusual and creative products for your home.