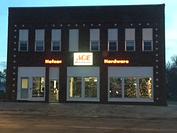 Hefner Ace Hardware
201 E Main St
Bloomfield, NE 68718
Phone: (402) 373-4581
Fax: (402) 373-4583
Email:
jasonhefner@hotmail.com
Mon - Fri 8:00 am - 5:00 pm
Sat 8:00 am - 12:00 pm
Sun Closed

JASON HEFNER
Owner

KELLI FEHRINGER
Manager

A.J. GIESELMAN
SALES MANAGER

DEREK THIELE
HVAC/APPLIANCE

SHARRON HEFNER
OWNER 2006-2013
DOUG HEFNER
OWNER 1981-2006
Hefner Hardware has been in business since 1981. It was originally a True Value store and converted to ACE in October 2015. The business was bought by Doug and Sharron Hefner on February 15, 1981. They moved with their family to Bloomfield, Nebraska from Omaha, Nebraska. They supported their family of five, including three children, Jill, Jason, and Laura through their childhoods until their graduations from college. Sharron took over ownership when Doug passed away from a heart attack in 2006. Sharron ran it with the help of very loyal employees and her son, Jason. After some employee changes Jason decided to buy and manage the store starting April 1, 2013. He switched it to an ACE store in 2015, and made it official on October 1, 2015. The Hefner family could not be happier partnering with the Hardware Industry Leader, ACE Hardware. Come check out the over 10,000 products available at Hefner Hardware in Bloomfield, NE.
Amy Howard
BLACK+DECKER
Benjamin Moore
Clark+Kensington
Craftsman
DEWALT
Husqvarna
Rubbermaid
Scotts
Toro
Traeger
Valspar
Weber
Werner